Topics
positioning, brand extension, promotion
Teaching Notes
Please see image and video below
News Article Source: KFC introduces 'Finger Lickin' Good' edible nail polish
---
Review the activity below or download the PDF student worksheet
Student Questions Worksheet: KFC Launches Edible Nail Polish – Brand Extension
---
Student Discussion Activity
KFC flavored nail polish – a brand extension too far?
Please start by reviewing the promotion video – search on YouTube for KFC edible nail polish
KFC introduced chicken flavored nail polish into their Hong Kong market. This new product (in 2016) is a significant extension to their brand. According to their publicity at the time:
This campaign is designed to be intriguing and fun to increase excitement around the KFC brand in Hong Kong.
BTW: It  comes in two flavors – just like there chicken: Original and Hot & Spicy. Just paint it on your nails, and when it's dry "lick – again and again and again." Tasty!!!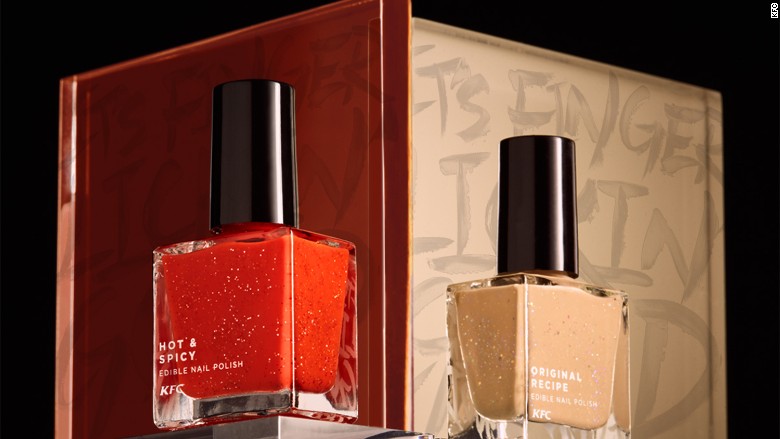 ---
The KFC Nail Polish Promotional Video
---
Student Discussion Questions
Review KFC's TV commercial for their flavored nail polish for the Hong Kong market. How well do you think it works as a persuasive message? Would this style of communication encourage younger consumers to become more engaged with the brand?
What is the role of a brand extension (for most brands, not just KFC)?
Do you agree with KFC's decision to extend their brand to flavored nail polish? Why/why not?
Do you think that they will be successful with their goal of increasing excitement around the brand in Hong Kong?
Could this be a new product that KFC could also launch successfully in other countries?
What other brand extension ideas do you have for KFC?
---
Related Activities
Product Line Extension Challenge