Topics
product design, product levels, benefits and features
Teaching Notes
Overview: In this task, students will analyze the design of an everyday food product and dissect it into its three product levels. They will also identify how the consumer derives benefits from various product features. The purpose of this exercise is for students to increase their understanding of how a product's design and features delivers benefits to consumers.
Teaching Level: Introductory/intermediate – students need to be familiar with the product levels model and the link between product features and benefits.
Suggested Structure: This activity can be run with individual students, or in small groups of students, followed by an overall class discussion.
Approximate Timing: This task can be completed in around 15-20 minutes in groups, plus it requires a further 15 minutes or so for overall class discussion time.
---
Review the activity below or download the PDF student worksheet
---
Student Discussion Activity
Let's Analyze the Product Design of a Cup of Noodles
Here is a cup of instant noodles that is commonly available in supermarkets and other convenience retailers.
Let's review some aspects of the packaging of the product:
the external packaging itself is designed as a cup that can be eaten out of directly
there is a serving suggestion shown on the packaging of the cup, suggesting additional food items that can enhance the product into a meal
there is a lid at the top, which is resealable, and contains small drainage holes – so after the cup has been filled with hot water and have softened the noodles, it can be easily drained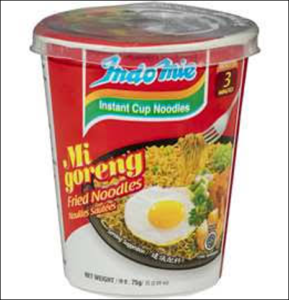 Inside the cup/packaging, of course there are the noodles, as well as a fold-able plastic fork.
In addition, there are five flavor satchels, which the consumer can use to add or not – depending upon their taste preference.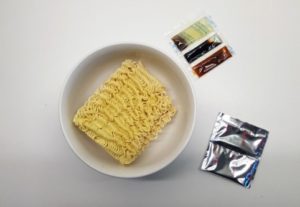 ---
Student Discussion Questions
Describe this product in terms of its three levels of product = core value/need, actual product, and augmented product.
Profile the type of consumers who would be the main target market/s for this product?
List the possible direct and indirect competitors for this product.
Based on your knowledge of competing brands, how has this product been differentiated in the market?
Finally, list the product's features and then identify what benefits that they provide to the customer.
---
Related Activities